Designing World Destinations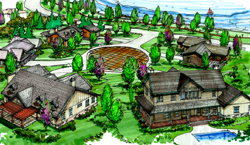 Mapleton Village Approved
PARK CITY, UTAH (November 23, 2006) - Jack Johnson Company, in conjunction with Presidio Capital LLC, is proud to announce Mapleton Village as one of Utah County's new neighborhood additions, an impressive example of the increasing popularity of traditional neighborhood design in the United States.
Mapleton Village is a unique 672-acre development nestled among scrub oak at the base of the Wasatch Mountains. Designed with traditional neighborhood principles, such as large front porches, walkable streets, classic architecture, and multiple common open space areas, Mapleton Village seeks to become the premier destination for families in Utah County.
"We appreciate Mapleton's City Council and Planning Commission embracing this project to approve the first traditional neighborhood design for Utah County. This development will be an excellent and unique addition to our State," notes Jack Johnson, president of Jack Johnson Company. "Residents will be proud to call Mapleton Village home."
A significant portion of the Mapleton Village site will be preserved as usable open space including Crowd Canyon and Maple Mountain, as well as acres of natural habitat. Additionally, ponds, play fields, common gardens, and miles of integrated trails will be key features of the project. Formal gardens, playgrounds, pocket parks and a village green will complement the Mapleton Village open space. As a pedestrian-friendly environment, Mapleton Village will enable residents to hike the canyon trails or play with their children at the neighborhood playing field without ever getting in their cars.
"Mapleton Village is in a pristine location at the foot of Crowd Canyon, directly abutting the Uinta National Forest. Families will greatly appreciate the tremendous amount of recreational offerings in the Mapleton neighborhood and their accessibility to their homes," states Todd Ford, Jack Johnson Company's project director for Mapleton Village. "Planning a progressive neighborhood with an environmentally sustainable design will benefit Utahans. We are pleased to bring Mapleton Village's traditional neighborhood design to Utah County."
Mapleton Village will offer a wide variety of unit types, including town homes, village homes and large estate homes with panoramic views of Utah County. This variety among the 565 units will help to create a true sense of community among residents. Additionally, Mapleton Village promises to be a healthy and environment-friendly community using sustainable development practices, Energy Starô rated homes, recycled irrigation water, and native vegetation and landscaping.
Jack Evans, Managing Director of Presidio Capital LLC, states, "We hired Jack Johnson Company because of their long and successful track record of creating distinctive destinations. At Mapleton Village, they have lived up to that reputation and more."
Jack Johnson Company is a destination design firm, with a primary focus on residential communities and recreational resorts. Services include land planning, architecture, civil engineering, surveying, project management, governmental processing, and more. Jack Johnson Company has been a key player in designing world destinations for over 30 years, with offices in Park City, Utah; Atlanta, Georgia; Boise, Idaho; and Phoenix and Scottsdale, Arizona. For more information on Jack Johnson Company, please contact Courtney Stern, Marketing Manager, or visit their Web site at www.jackjohnson.com. For more information on Mapleton Village, please contact Todd Ford, Project Director.